Check your Foot Health. Participate in a 2 Minutes Survey
Our Team
Meet the Promed Team
At ProMed our Podiatrists are caring, experienced and highly skilled. They are all dedicated to providing the highest quality care tailored to your individual needs. Each Podiatrist has a strong commitment to ongoing clinical and professional development.
All ProMed Podiatrists are experienced in the diagnosis and management of a full range of foot and lower limb conditions and provide exceptional routine foot and nail care.
Our administration team is caring, experienced and devoted to helping our clients feel looked after, safe and happy.
Raechel Farquharson
Podiatrist
Special Interests : Diabetes Management, Children's Foot Health, Foot Pain, Rheumatology/Arthritis
Raechel graduated from the University of Western Sydney (Macarthur) in 2000 with a Bachelor of Applied Science (Podiatry). Prior to establishing ProMed Podiatry Clinic, Raechel gained valuable experience and insights providing both inpatient and outpatient podiatry services to patients at the Gold Coast (Southport) and Robina hospitals. In this role the focus was on the care of high risk patients. Raechel has also volunteered her services in the South Pacific having undertaken placement in Tonga where she led efforts to educate the ulcer management team in the hospitals diabetes high risk clinic.
Over her entire career Raechel has remained committed to her own on-going professional development as well as that of each of her team members. Additionally, she invests in the next generation of podiatrists by supervising student placements at ProMed Clinic. Raechel enjoys all aspects of podiatry with particular interest in diabetes management, pain management and children's developmental issues.
Sarah Youngson
Podiatrist
Special Interests : Diabetes Management, Sports Injuries, Foot Pain
After several years working in retail footwear Sarah undertook and completed a Bachelor of Health Science (Podiatry) (Honours) from the Queensland University of Technology in 2015. Sarah's vision on graduation was to join the ProMed team. In this role she is rapidly building a dedicated set of patients and is skilful in solving their podiatry-related problems. She recognises the value of life-long learning through ongoing professional development as a ProMed team member and by supporting podiatry students.
Sarah enjoys all aspects of Podiatry and is specifically interested in gaining experience with sports injuries, orthotic therapies and general foot care. Sarah enjoys spending time with family and friends. Additionally she enjoys running and is a very keen soccer player.
Janine Frampton
Podiatrist
Special Interests : All aspects from Bio-mechanics and children's growing feet to diabetic assessment
Janine has lived in Brisbane for the past 7 years after moving north from Newcastle NSW. She graduated from Queensland university of technology with honors in 2016 and has been working in private practice till Joining ProMed Podiatry
Janine has a keen interest in all aspects of podiatry from bio-mechanics and children's growing feet to diabetic assessment. Janine enjoys providing thorough treatments and excellent patient service. She takes a holistic approach to the diagnosis and management of common foot conditions, through comprehensive treatment and sustained patient education. She believes the most crucial part of a treatment plan includes patient understanding and awareness.
Janine also spent time in the retail sector and has extensive experience in school and sports footwear. She liaises with community groups to give talks about foot health and really enjoys helping the wider community learn how to prevent injury.
Outside of work Janine enjoys traveling, exercising and competing in marathons and loves spending time with family and friends.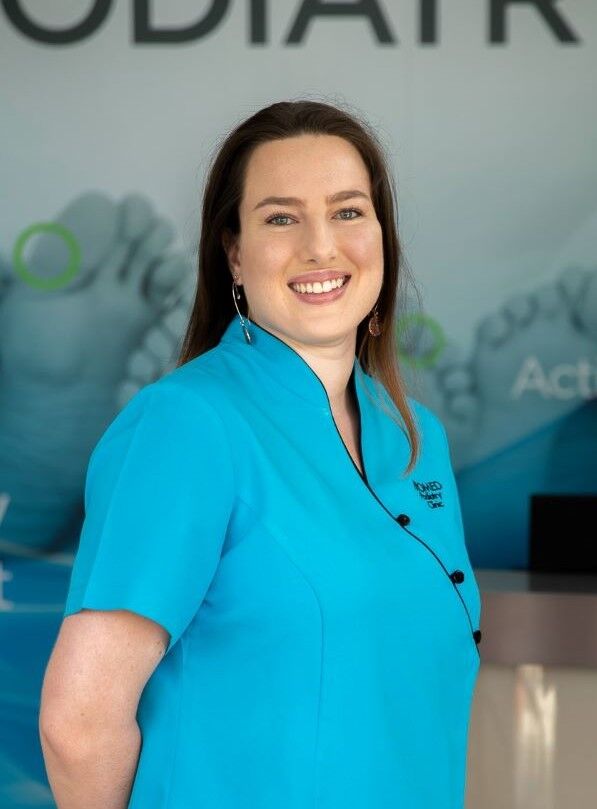 Kesia Ryan
Podiatrist
Special Interests: Paediatric Podiatry, Injury Rehabilitation
Kesia graduated from Southern Cross University in 2019 with a Bachelor of Podiatry.
She decided to study podiatry at the age of 14 after many years of podiatry treatment as a child.
Kesia was, and still is, an avid hockey and soccer player and has had many lower limb injuries during her sporting career. Her podiatry treatment kept her running pain free and on the field each week.
During university Kesia worked in retail, fitting and selling both adult and kids footwear. She has in-depth experience with school shoes, and children's footwear from ages 0 – 18.
During her university degree she volunteered in The Friendship Village in Vietnam, working with children and Vietnam war veterans.
Outside of work Kesia likes to run on the soccer and hockey fields. She also likes to head to the beach and enjoy the beautiful Gold Coast weather. And of course, spend time with family, friends, and any dogs that want a scratch.
Kiani Collier
Admin Team Member
Kiani is the newest face here at ProMed. She is originally from New Zealand but moved to Australia a few years ago with her family. She loves all things travel, new cultures, street food, and going on spontaneous adventures with friends. Her biggest dream is to go to Europe and the U.K. One of Kiani's favourite things to do is watch the sky, sunsets, moon rises, electrical storms and stars. Kiani is so excited to be working at ProMed and to gain experience in administration as well as getting to know all of our client's bright smiling faces!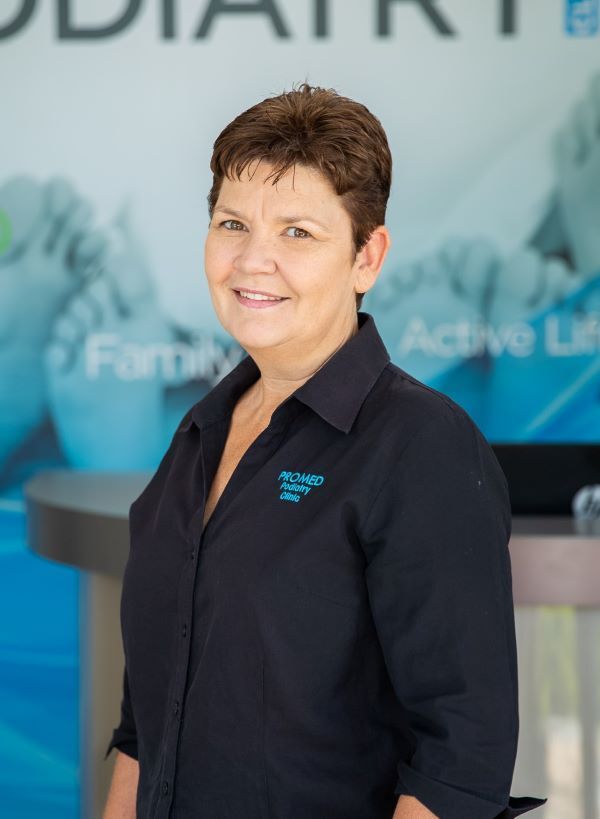 Christine Fisher

Admin Team Member
Chris joined Promed just over 7 years ago after moving back to the Gold Coast from farm life in Beaudesert for 13 years with her husband and family who are now all grown up, but still living at home. Dannielle 21 who is working and studying teaching and Lauchlan 19 who is an apprentice Cabinetmaker. The Clinic was then Physio and Podiatry. Her working back ground in the reception Medical field has been over 28 years with both Medical Reception and treatment assisting within a very diverse GP clinic and Dental reception and Dental assisting Chris enjoys the patient contact and helping others. Loves camping especially her yearly family and friends holiday to Fraser Island she calls it " My happy place" cant get enough of that sea air and freedom of the relaxing sea sun surf sand and fishing. Interests include honey bees with lots of pet honey bees at home, thus the fresh honey on the counter here at ProMed, other pets include chooks "the ladies" fish, turtle red claw and of course our latest edition Cooper the 2 year old Smithfield pup. Hobbies include making bees wax food wraps and wax melts, Chris enjoys fishing camping and swimming in her pool and spending time with friends and family.
Affiliations and Accreditation

Check out our Product Specials
View Products